Reading Time:
7
minutes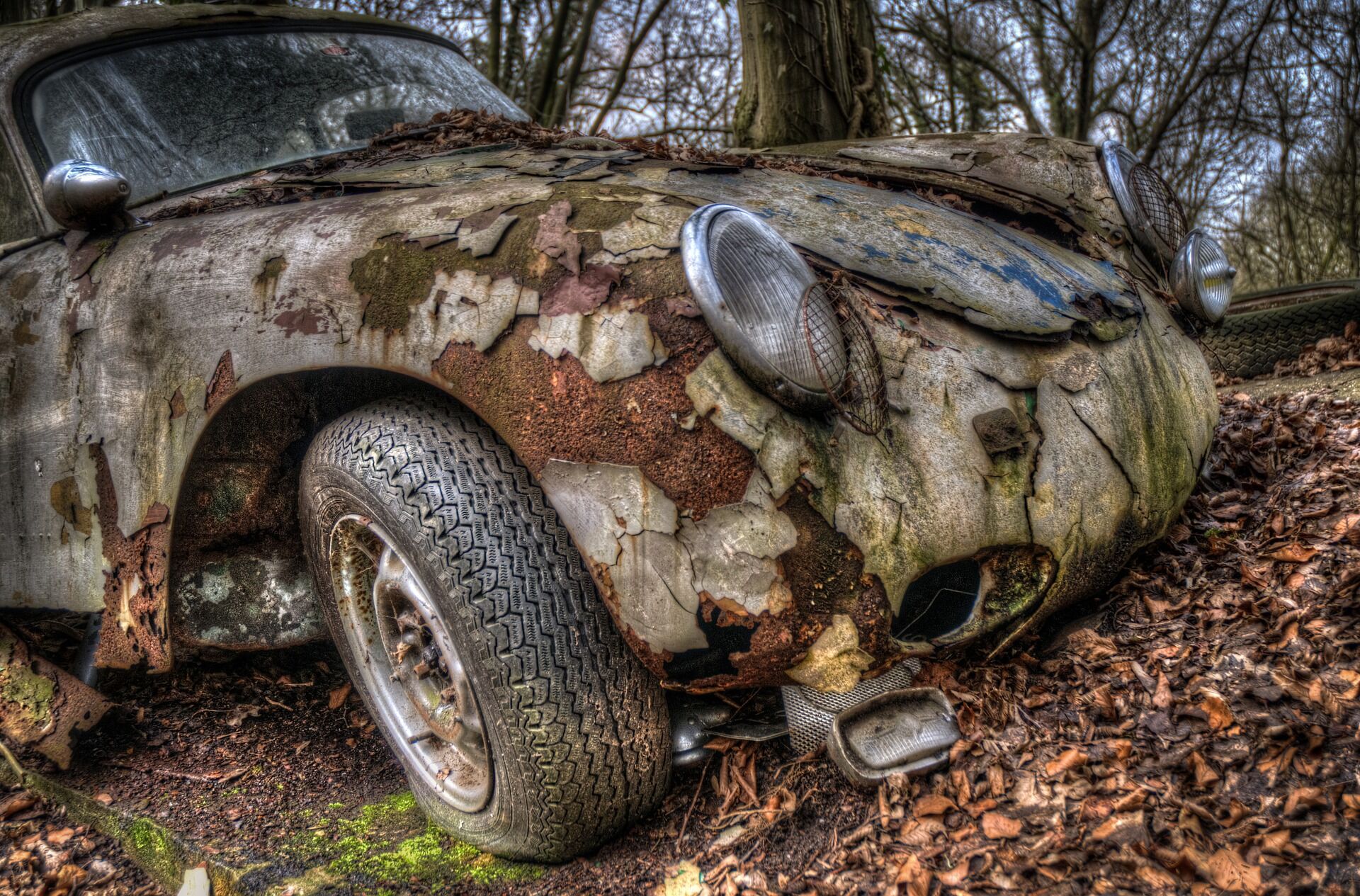 If you're like me, you spend a lot of time trying to learn, but what if the knowledge we have gained is wrong?
I had an instructor who told me of a philosopher who said that we should find out all we can about a topic and then proceed as if we know nothing. Mind blown.
This applies to the world around us. It's not that what we've learned is wrong but that it's no longer right as the world as changed.
That's often how I feel about the world of marketing communication. It's always changing. Best practices from only a couple of years ago are no longer best practices. In fact, they are tactics that will lead to irrelevance.
A little over a week ago I ran across a presentation by Rand Fishkin. For those that don't know, Rand was the founder of Moz and is the co-founder of Spark Toro. The presentation is from about seven months ago.
It was titled, "The Next Era of Web Marketing: 2019 and Beyond" and I was intrigued by what insights I would find. It certainly didn't disappoint.
The first half of the presentation was an eye-opener. He went through and systematically showed why many of the things that have been best practices over the last ten years weren't relevant anymore.
I felt like I'd been hit by a truck. Then it backed up and ran over me again.
I can't be the only one who has fallen into the rut of best practices so let's look at a couple of key ideas that Rand presented.
* A quick disclaimer: The data that I'm using in this article is from Rand's presentation. I linked to it at the beginning. Go check out the slides for yourself because I'm not speaking to everything he presented.
Through the Lens of PESO
In the second half of Rand's presentation, I felt a little better. It turns out that I'm not living in the past after all. I've been a disciple of the PESO model, developed by Gini Dietrich at Spin Sucks, since 2017.
For those who aren't sure what the PESO model is you can go here, here, and also here and here, and finally here to catch up. For those of you who just want to the cliff notes version, here it is.
PESO stands for:
Paid Media
Earned Media
Shared Media
Owned Media
Paid media is digital ads. The ads can be on social media networks such as Facebook, Instagram, LinkedIn, or YouTube. They could also be Google ads.
Earned media is what public relations would call media relations. In its classic form, it's securing media coverage through print. In its modern form, it also includes getting backlinks to your website.
Shared media is what most people would call social media. Facebook, Twitter, Instagram, Snapchat, Pinterest, LinkedIn, and YouTube are all examples of social media. We call it shared media because not only do we use social media we share articles, videos, photos, and opinions.
Owned media is where you own both the channel and the content. Most of the time it's going to be your website.
Rotate Around the Sun: AKA Owned Media
Gini has often stated that it starts with owned media because it is the channel that we own but let's quickly expand on owned media. I said most of the time owned media is your website. Did you stop and wonder what else it could be?
To get that information I need you to send $5 to Owned Media….just kidding. I was just making sure you were still paying attention.
There are only two things that you own. Your website and your email list. That's it.
Everything else is completely out of your control and that's a problem, but why?
Let's dive into Rand's presentation and look at some data.
About ten years ago social media was proclaimed the magic bullet. It was going to lead us to the promised land. While it did impact the world it didn't turn out to be a magic bullet.
The social media networks have created their own kingdoms and the walls are getting higher. They are diminishing outlinking to external websites to keep the traffic for themselves.
Let's look at the biggest social media network, Facebook, to see the impact.
Organic reach for Facebook pages has dropped dramatically. Organic reach is the number of people who see your posts without paid distribution. Another to put it is, these are the people who are viewing your content without you driving them to it with an ad.
Business pages that have really taken a hit. In 2011 the average organic reach for a business page was 26%. In 2017 it was .5%. The average engagement per post on Facebook across all industries for business pages is .9%.
If you eschewed a website and have chosen to build on Facebook, your blood should be running cold about now.
What about other social media networks?
Instagram has always made outlinking hard (I get sick of promoting posts on Instagram and putting, "See link in bio.").
Prefer Twitter or LinkedIn? They give preference to content on their own networks over outlinking.
The social media networks are rented land. Building a business on these platforms is high risk but I'll go one step further. It's a really bad idea.
The reality is the people who like your page or are following you on the social networks aren't your people. They are Facebook's or Instagram's or Twitter's people. If any of these platforms decided to dump businesses off their platforms, you would lose everybody who follows you. Game over.
Focus on building your website and your email address list. One person who visits your site and/or is on your email address is much more valuable than somebody who follows you on social media.
We Still Have Google…Right?
You might be thinking something along the lines of, "Ok…social media isn't going to send me much traffic but I still have Google. I'll double down on search engine optimization and everything will be fine."
The good news is that Google is still one of the top referral sources referring nearly 58% of its traffic. The bad news is, like the social media networks, Google is holding onto more and more of its traffic and no click searches are rising.
No click searches are when somebody does a search but doesn't click on a link that takes them somewhere. Let's look at an example.
Below is a search I did for college football scores.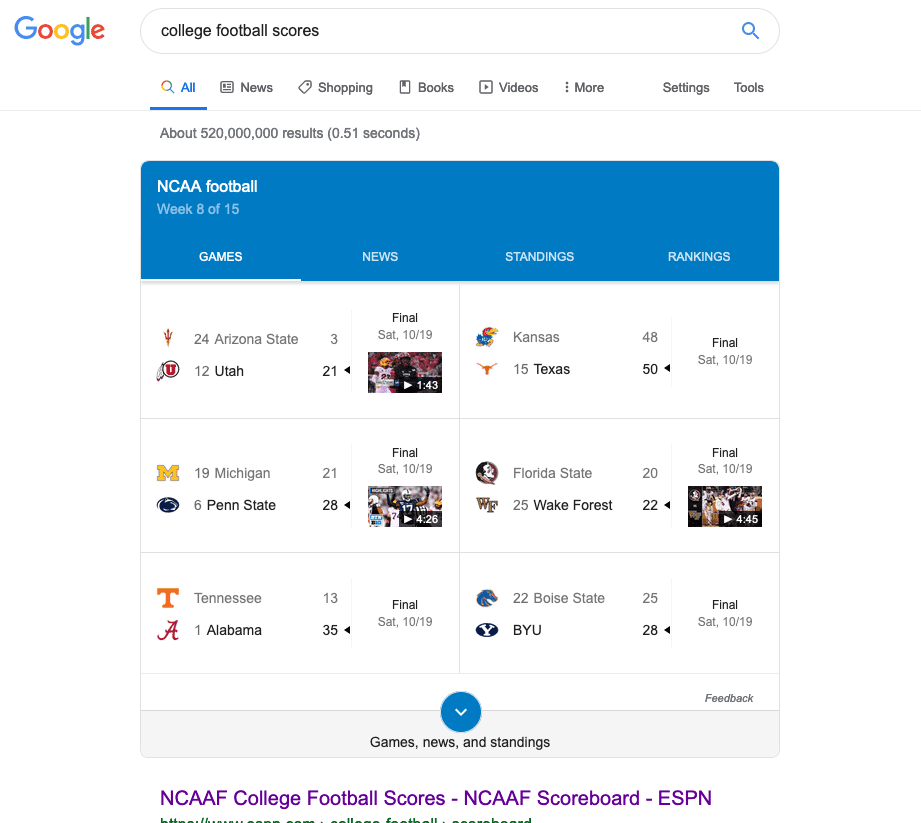 There scores on the search engine results page. Google is giving me the info and if I click on the little blue arrow it will open up and give more scores.
I'm looking to see what happened with my Boise State Broncos because I didn't want to stay up until midnite watching the game. There's the score in Google results. No need to go anywhere else. I have my answer without ever leaving Google. This is a no click search.
Did you notice what was second in the results? ESPN. The largest sports network in the country isn't getting my traffic in this situation because, why? I have the info I want directly from Google.
So how serious are no click searches? I'll let you be the judge.
Overall, no click searches are up 30% over the last two years. Desktop no click searches stand at 34.4%. Certainly not horrible but web traffic has been moving from desktop to mobile. On mobile, no click searches are at 61.03%.
This isn't just an issue for ESPN not getting traffic for sports scores. More and more Google is keeping traffic. If you do a local search, say for a pizza place, the results will come up and give you a link that takes to…Google.
Looking for videos? The preferred destination in the results is YouTube. Who owns YouTube? Google.
What's a business to do? Start by finding out where your target audience goes for information.
I'm not going to lie to you. This isn't going to be easy but start with your current customers. Where do they go for information? How did they find you?
Once you know where your target audience goes, you know where you can target them. Don't work harder. Work smarter.
One more thing. Don't ignore SEO. It's still important.
What About Social Media?
So what about social. If you looked at any of the PESO posts you would have seen that I said that you should promote on social media.
Guess what? You should still promote on social media.
The social media networks will boost the reach of your next post if your current post gets high engagement. So how does this work for promoting your content?
You need to share non-promotional posts as well. What you want are non-promotional posts that get high engagement so your promotional posts will be boosted.
There needs to be a balance between engagement and getting clicks. People don't want to hear about you all the time. What kind of content can you share on social media that will draw engagement?
Whatever it is, it needs to make sense. If your a SaaS company, sharing pictures of dogs makes no sense (unless you can tie it back to your industry in some way).
Final Thoughts
In this article, I focused on owned media and shared media (hey, Gini said the acronym should be OSEP but it was harder to remember than PESO. Oh, and she LOVES Phil Collins. I'm not sure what kind of music Rand likes. I, on the other hand, wrote this while listening to Rush). We also took a look at the largest search engine, Google and its changing impact for marketers.
There has been change and with that change come some challenges. These are challenges that can be overcome but it does require you to look at the world a little differently and do some work.
Remember, with challenge comes opportunity. If you read through to this point, you are already ahead of your competitors. While they are playing with the old rules you will have taken a leap into a new reality which will help put your marketing efforts miles ahead of theirs.
The comments are yours or, if you want to have a more detailed conversation, contact me here.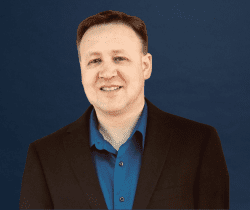 Latest posts by Shane Carpenter
(see all)