Reading Time:
6
minutes

Discovery
Like many of you, I'm busy running a business. If I had to stop to go post every piece of content to Facebook, Twitter, and LinkedIn that I created, I would lose several hours from my day. I would much rather use that time to run my business and service my clients. This is where CoSchedule comes in. It aims to solve that problem for all of us (Full disclosure: I am benefitting from this review by getting a 50% discount for this year).
I'm going to get into the review in a minute. First, I'm going to tell you the story of how I came to find and start using CoSchedule. I initially heard of it from Gini Dietrich over at Spin Sucks. To say she raved about it would be an understatement. Gini is kind of my unofficial (really unofficial) mentor. She rarely has said anything that has sent me down the wrong path, so, I decided to check it out for myself.
CoSchedule offers a 14-day free trial. Unfortunately, I didn't really give it the workout that I would have liked because of personal circumstances. I decided to put off any purchase for the time being while I dealt with other matters (to be fair, there was an option to contact CoSchedule to extend the trial. I just didn't exercise it).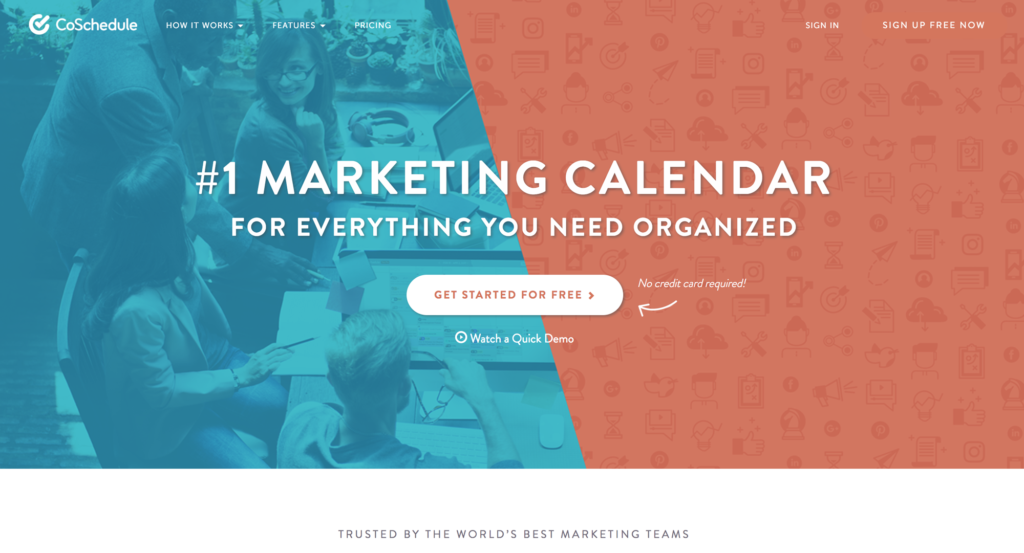 A couple of months later, something funny happened. Gini shared some pictures. She had proclaimed her love of CoSchedule on many occasions and evidently, it was paying close attention. She got some flowers with a little note that it loved her too. A couple days later, the marriage proposal came (I swear I am not making this up) and she said yes. It was absolutely hilarious!
Then and there I decided I was using CoSchedule. I mean seriously, who has ever heard of a brand making a wedding proposal? I have never met anybody at CoSchedule but I knew they had to be awesome (I'll forgive the fact that its CEO and co-founder, Garrett Moon is a devoted Cubs fan…nobody is perfect).
Buying a subscription to an app because it proposed to somebody you know probably is not a sound business decision. It could of, and probably should have, blown up in my face (to be fair I did use it a little in that 14-day trial period). I'm happy to tell you it hasn't. It is one of the best decisions I've made. I wish I would have made it sooner.
That's my funny story how I came to discover CoSchedule. I hope you found it entertaining. Now, let's get down to business now.
What is CoSchedule?
CoSchedule is an app that helps you save time by scheduling social media activities. That's the major selling point but it goes beyond that. I'll tell you about that later.
There are several different plans. I subscribed to the individual plan but there is also a business and agency plan. Each plan also offers different tiers. As you can guess the plan and tier you subscribe too will impact the features offered.
I'm a soloprenuer so the individual plan was the right option for me. While I would love to have some of the additional features (who wouldn't?) it does what I need it to do and it does it very well.
Key Features
When you first log into CoSchedule, it will default to the dashboard which will show notifications, any upcoming posts or projects, and tasks that have been assigned and when they are due. It's a feature that gives me a nice snapshot of what's going on.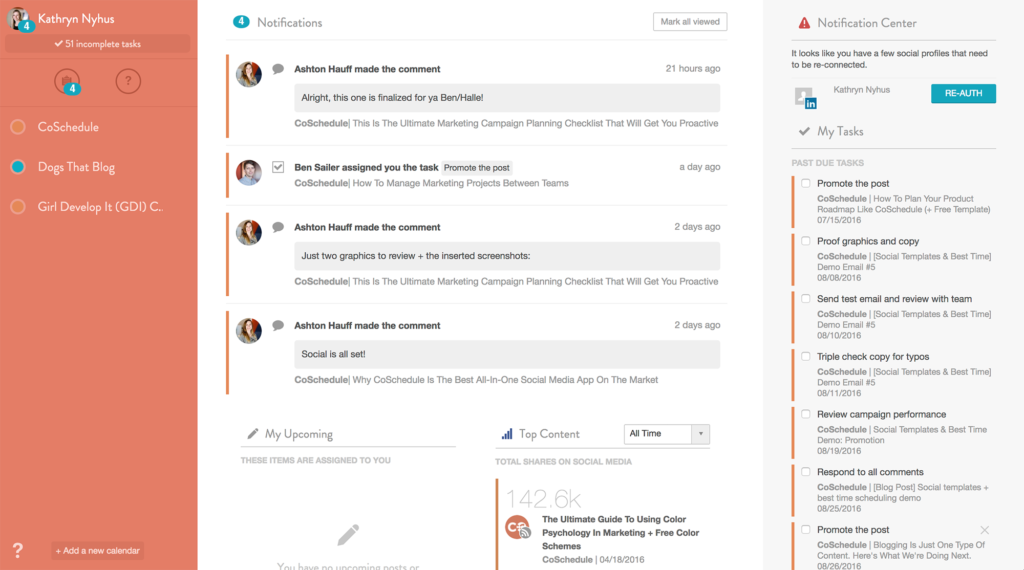 All the action is on the calendar. This is where you do all your scheduling (multiple calendars are available in the Growth + Agency, Professional and Enterprise plans). CoSchedule also gives the option for different calendar views. For instance, I have several views. I can view everything on one calendar or I can look at a view that shows just my tasks or social media activity. It's a nice feature that allows me to quickly see the information that I'm most interested in.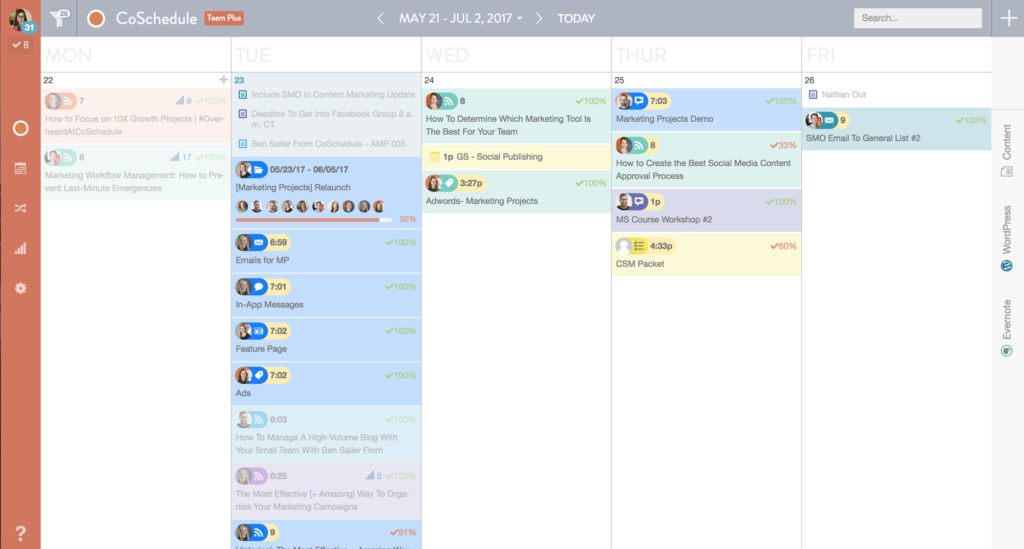 There is also the option to filter within a view. If I wanted to view just my Twitter posts, I could filter out Facebook and LinkedIn. I haven't found that I post enough for that to be necessary but it's a nice option to have.
Selecting the type of project to schedule is easy. When you mouse over a day, a plus sign will appear. You click the plus sign and a menu like you see in the example below will come up.
As I have a scaled down version, I don't have all the types that you see above. My options are limited to Mailchimp and WordPress (which I have integrated with CoSchedule), Blog Post, Social Campaign, Email Campaign, Social Message (for individual posts), Event, Note, and Task.
Once the project type has been selected you will be able to go through the steps to schedule. As you may have noticed by now, this is more than a social media calendaring app. It does multiple things.
While I have used CoSchedule to post individually to Facebook and Twitter, and I use tasks quite a bit, my number one activity is social campaigns. They are crazy easy to set-up.
When I write a blog post I always promote it via social. I use the templates in CoSchedule to post to all my social media accounts. Usually, I'm scheduling over a period of a week. While I only post once during my campaigns to Facebook and LinkedIn, Twitter posts are scheduled for multiple times and days.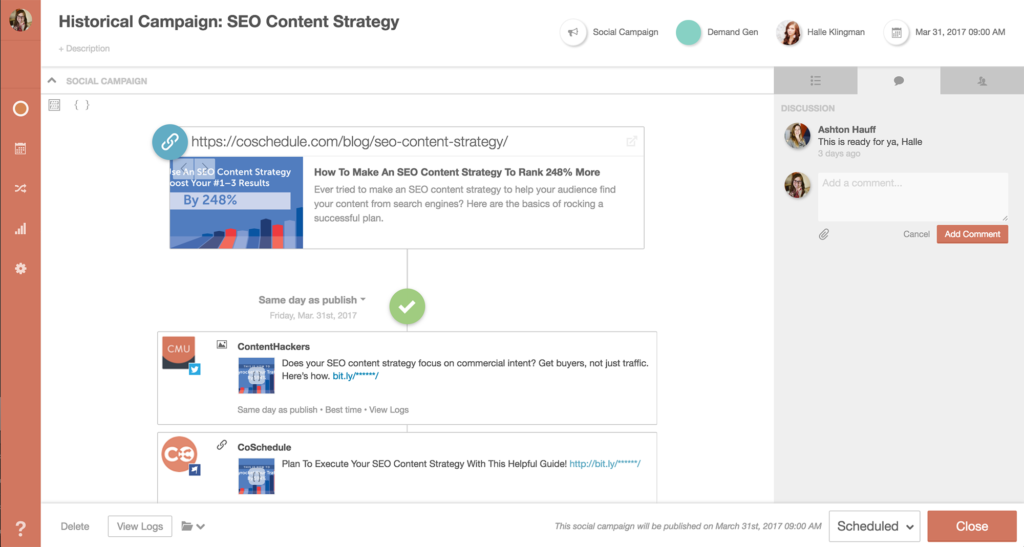 I save a ton of time with the social media campaigns feature. Best of all CoSchedule is smart enough to know the best time for my posts. This is a great feature to have and makes my life really easy. Well, most the time.
There have been rare occurrences where the times it says are best are not times that I want. For example last week I posted my blog at 6:00 am local time and CoSchedule didn't want to post anything until 10:00 pm that night. For those instances, you are able to edit the time. If you're uneasy about letting the app pick the best time, you can manually set it.
Integrations and Team Members
I mentioned integrations in passing a little earlier. I want to tell you a little more about it.
There are multiple apps that can be integrated. They include the previously mentioned WordPress and MailChimp. You can also integrate Evernote, Google Docs, Google Calendar, Google Analytics, and YouTube (this is not a complete list). Be aware that some of the integrations do require Zapier.
I am a team of one but if you have multiple team members you can send invitations for them to join you (not available for the individual plan).
One More Thing…ReQueue
One of my favorite features is ReQueue. This was a feature that I heard about in a webinar with Andy Crestodina (now that I think of it, it was CoSchedule webinar). Hopefully, we are creating evergreen content for our websites. Assuming this is the case, ReQueue is a fantastic way to continually promote this content.
ReQueue is an optional feature and does have to be set up. Essentially it fills in the gaps on your social media schedule. The set-up is a breeze and it has a limit on posting so you don't over saturate. This is easily one of my favorite features. It also played a big part in me subscribing to CoSchedule.
Final Thoughts
I didn't go every little feature but CoSchedule supports users with video and written content that is easy to use. If you still feel flustered, they have excellent customer support (I had to use them once so I know from experience).
For those of you that use WordPress, you will be interested to know that there is a plug-in. And of course, there is a mobile app. It's a scaled-down version of the online app. It allows you to see a single day at a time, set notifications, and post individual messages to social media accounts.
Overall this is a wonderful app that has saved me a lot of time and anguish and the price point is reasonable for what you get. I have been using it for about three months now and it's one of my most used tools.
Don't take my word. Go to CoSchedule and see for yourself by clicking here or on the logo below. I think you will be happy you did. Cheers.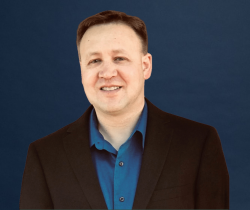 Latest posts by Shane Carpenter
(see all)