Reading Time:
6
minutes
Many days when I wake up I feel like I'm living in some crazy alternate timeline. The last couple of months have been interesting to say the least. Any semblance of what we knew as normal in January still seems like a long way off.
As some states have started to slowly re-open their economies, the question for businesses has become what does the future look like?
Planning for the future has become a big topic in my email box as well as on some blogs and podcasts.
I've been struggling with this conversation as what the future might look like seems murky at best. There are still a host of questions in which we don't have answers.
I'm a huge proponent of planning but it's hard to plan when you don't know what the future might look like.
The Future is Fuzzy
I got an email over the weekend that proclaimed that everything was back to normal. I was taken aback. It felt tone-deaf at best and absolutely out of touch with reality at worst.
However, over the past month, I have seen many calls to start getting ready for the "new normal". There are some problems with this.
We don't how long our current situation will continue. While many states are starting to re-open, a second wave of Covid-19 is possible. Another wave could also mean shutting everything down again.
Experts have said we won't return to normal until there is a vaccine which they say 12-18 months away.
While the worst of the doom and gloom scenarios haven't come to roost, it's obvious that there has been a severe negative economic impact. That impact isn't relegated to any one area of the United States. It's engulfed the entire country.
Like the health crisis itself, the economic impact is being felt around the world. This makes it harder to understand what the world will look like on the other side of Covid-19.
Because pandemics are so rare and our data is limited, we don't have experts in any field outside of the health sector that can tell businesses or marketers the best way to navigate through this time. We are all learning as we go.
I've seen plenty of predictions on the economy post covid but these are only guesses and most of them paint a rosy picture. Many assume a quick turn around in which the economy reignites quickly. While I would love for that to be true the reality appears much more stark.
It's Hard to Predict the Future
People have lost their jobs and are having a hard time paying their bills if are able to pay them at all. While there may be a certain segment of the population that has felt less impact, the longer the health crisis continues, the more broad the impact will be.
From a business standpoint, supply chains have been interrupted worldwide. Demand is down for most products and services. Some sectors such as retail, restaurants, and entertainment or being hit especially hard.
The problem is, unless you are a fortune-teller, it's hard to know what the future is going to look like. It's hard to prepare for that you know little about.
As humans, we typically prepare what is coming by projecting what we are experiencing now to the future. We may factor in other information such as trends but most people aren't good about guessing what lies ahead.
The mobile phone industry declared the iPhone would have very little if any impact. Their own biases prevented them from seeing how the product would reshape the entire industry.
Yahoo started as a search engine but bet on the fact that web portals and not search itself would the key to revenue and profit. Google came along and showed that monetizing search with ads was much more lucrative. Yahoo fell as quickly as it rose eventually agreeing to be purchased by Verizon while Google has become the 10,000 lb. gorilla of the internet.
Frankly, much of the change that we experience isn't foreseen.
Preparation For The Unknown
Personally, I've found this call to prepare for an unknown future daunting. The last couple of months have been much more stressful than usual. Some days are ok but there are times that I feel extremely anxious.
I often think of this exchange between Frodo And Gandalf the Grey from the movie Lord of the Rings: The Fellowship of the Ring:
Frodo: I wish the Ring had never come to me. I wish none of this had happened. 
Gandalf: So do all who live to see such times; but that is not for them to decide. All we have to decide is what to do with the time that is given to us.
Can you prepare for the unknown? Yes. You do it more often than you realize. When you pack for a trip. The olden days when you used to have to drive to work. When you used to send the kids off to grandma's house for the night.
I always include a change of clothes in my carry just in case my luggage gets lost. I also pack more clothes than I need when I travel. Have I ever been in either of these situations? Nope, but I plan for any unforeseen events that might happen.
Of course, the stakes are much lower in these situations. It's a little different when you're running a business or creating a marketing communication plan in the middle of uncertainty for a future that is very opaque.
Building Scenarios
First, I'm not advocating that you have to sit down and plan out what your marketing communication plan will look like after this has all past. Nobody has to do anything.
The advice that it is time to plan for the future isn't good advice for everybody. Goodness knows that I'm a huge advocate of having a strategic plan but not everybody is going to be in the same place at the same time. Whether or not you should start planning for the future doesn't have a cut and dry answer.
Second, I got this idea from Christopher Penn. He stated (I don't remember what channel I was in) that both he and his partner at Trust Insights, Katie Robbert, will sit down and create scenarios.
Indeed, Katie wrote about it in an article in relation to this idea in which she states that her favorite style of planning is three plans:
Best case scenario
Worst case scenario
Most probable scenario
You could certainly just sit down and starting gaming scenarios but this way of doing it gives you some structure. The downside is that right now, any scenario is possible. You could use this structure to find out you completely wrong all the way around.
However you do it, building scenarios is essential in trying to plan for the future but you need to be flexible. You will want to set a timeframe to revisit them.
A crisis means instability. What looks good today might not look good tomorrow. The inverse could also be true.
Focus On Now
While the call to plan for an uncertain future seems to be a popular cry for businesses, there is a case to be made that it's the wrong thing to do. Just because something is popular doesn't mean it's right. Especially for you.
I've got to say, I've felt caught in the middle. Many of the people whom I highly respect and frequently look to for advice have been advocating a plan for the future mindset. The flip side is that it doesn't feel quite right to me. It's been hard enough dealing with the now which has been unstable, to say the least.
While writing this article, I took a break and went email where I found a link to this article, Business Leaders Need To Stop Trying To Predict The Post-COVID World And Focus On The Here And Now. The title says it all and I have to say, the author makes a compelling argument.
Continue Marketing
Whether you choose to game out some scenarios of potential future or focus on now, the biggest boost you can give yourself is to continue with your marketing and public relations efforts.
While paid advertising might be cost-prohibitive, you can still engage in other top of the funnel activities. Many companies are choosing to cut back or even stop their activities altogether.
While it's always a good idea to pay attention to your competitors. If they are choosing to curtail or stop their marketing communication efforts, this works in your favor. It gives you a chance to build awareness and trust at their expense.
Ironically, doing this is focusing on now and the future.
The Choice is Yours
If I was sitting across from you right now, my advice would likely be to focus on the here and now. After all, during World War II, the allies weren't planning the after war future in 1942. They were focusing on the current reality they faced.
It's hard to plan for an uncertain future when you're trying to survive in an uncertain present.
There will be a time in this crisis when you should plan for the future but I'm not convinced that time is now.
Ultimately, it doesn't matter what I or anybody else says. As I said in my last article:
"Everything deserves some scrutiny. Not for the sake of being argumentative but for the sake of determining if it's right for you. Everything has positive and negative aspects and you need to determine what they are."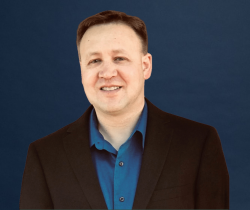 Latest posts by Shane Carpenter
(see all)