Reading Time:
6
minutes
There will be a host of words that we will use to describe 2020. Few of them will have much positivity attached to them.
It's been a challenging year. I feel like I've been run through the gauntlet on both the personal and professional levels. Lost clients, revenue, and relationships.
However, there have been bright spots as well. One door closes and another opens. Not always as fast as we want but patience is a virtue. At least that what I'm told.
It's when times are at their darkest that it's most important to recognize the good things that have happened. Instead of focusing on the negative I feel that it's important to recognize the positive.
Last year I wrote a post that focused on five websites that have been great resources to me on my journey. They are run by some really smart people. I wanted to not only give my thanks to them but also to share them with you with the hope that you would find them as helpful as I have. If you missed the post last year, you can check it out here.
This year I'm going to do something similar but instead of websites and the people that run them, I'm going to focus on individuals.
There are a whole slew of people that I follow that are really good at what they do and share great advice. I'd like to include everybody but it would be a really long article.
Instead, I decided to focus on six people that I consistently find myself learning from. Ironically, the focus of the article came from a tweet from one of the six people I'm going to be talking about (Thank you, Jay). As I said, I learn from them all the time.
Enough of my chatter. I present to you six people that will teach you with every tweet, article, webinar, video, newsletter, and podcast they create.
Let's get started.
Martin Waxman
Martin is the President of Martin Waxman Communications. He's a LinkedIn Learning Instructor, a professor of social media, public relations, and journalism at Seneca College, an adjunct professor with both McMasters-Syracuse MCM and Schulich School of Business at York University, a past-chair of PRSA Counselors Academy, and a past-president of CPRS Toronto.
As if that isn't enough, Martin also conducts AI research (check out his Ted Talk, A Big Jump Into AI). His capstone, "My BFF is a Chatbot: Examining the Nature of Artificial Relationships and the Role They Play in Communications and Trust", won the 2019 Institute for Public Relations Makovsky Best Thesis Award.
For those of you who are regular readers, he has also written and worked with a site that I mention frequently, Spin Sucks.
It was his association with Gini Dietrich that brought him to my attention. I'm glad it did.
I think it's probably an understatement to say that Martin really knows his stuff and he is always happy to share his insights.
His bi-weekly LinkedIn Newsletter, Digital Marketing Trends, is a must read for PR and marketing pros.
Michelle Garrett
Michelle is a PR Consultant/Writer who has been featured in Entrepreneur, PR Daily, Muck Rack, and Business2Community among others.
She is always there to help people and has become one of my go-to resources on everything PR. Like Martin, she is always sharing insights and advice.
Michelle is very active on Twitter and is the host of #FreelanceChat every Thursday at 12:00 PM MST on Twitter. While it's intended for freelancers, I've always found the conversations to be a goldmine of information that can be applied whether you are a freelancer or not.
Jay Acunzo
Jay is the Founder of Marketing Showrunners, a keynote speaker, the host of several podcasts including Unthinkable and 3 Clips, and the host of the docuseries Against the Grain at HelpScout. He's also written a book which I'll talk about in a second. Before I do, I have to say after typing all that up, I find myself wondering how he still finds the time to be active on Twitter.
I "met" Jay in the Spin Sucks community in the fall of 2018. He was there to talk about the ideas in his book, Break The Wheel: Question Best Practices, Hone Your Intuition, and Do Your Best Work.
To be honest, the only thing I really remember is that Mike Connell and I got in trouble for getting the conversation started early. However, he did make a strong enough impression that I did buy his book, which I've read twice, and started following him on Twitter.
If you are interested in podcasting, Jay is a fabulous resource. Marketing Showrunners focuses on helping people and brands make a better podcast. It offers workshops and is launching courses to help with this endeavor.
Even if you're not looking to put together a podcast, you will find that much of what Jay talks about can apply across all your marketing efforts.
What I really like about him is that he is kind of the anti-marketer. He promotes ideas that would send most marketers into a conniption fit and I love him for it. The best compliment I can give is that he has changed my perspective on what marketing can and should be.
Rand Fishkin
Rand is likely best known for being a co-founder of Moz. He is currently the co-Founder and CEO of SparkToro and the author of Lost and Founder: A Painfully Honest Guide to the Startup World.
I highly recommend the book. It is one of the most transparent business books I've ever read. I can honestly say I've never had a business book hit me on a emotional level like this book did.
He's an advocate for marketers and frequently points out the issues that the duopoly of Facebook and Google pose for all of us.
Rand is a wealth of knowledge on inbound marketing and SEO. I don't think I've ever heard a podcast, presentation, or read a blog post he's written that I didn't come away with at least one thing that I could take and put into action.
Joel Klettke
If you read my article last week, you'll recognize Joel's name. Joel is a copywriter and a consultant to SaaS and B2B companies. He has worked with HubSpot and WP Engine to name just two.
I think the story of how I found him is kind of funny. I attended a webinar to hear Rand Fishkin present. Joel just happened to be there to present as well. I'd never heard of him before and I almost clicked out after Rand was done talking. I decided that was probably rude and if this Joel guy was there it was probably worth hearing what he had to say.
I always take notes and I was writing furiously while Joel spoke. His talk introduced me to Eugene Schwartz, who defined the Five Levels of Awareness that I have referenced in several articles on this blog.
Late last week, Talia Wolf, who is a fantastic person to follow as well, tweeted a link to a webinar that Joel gave that she hosted titled How to go from blank screen to high converting copy. It was fantastic if not a little depressing because it showed how much work I need to do on my site.
If you want to learn how to write better copy that converts, look no further than Joel.
Wil Reynolds
Wil is the Founder of Seer Interactive. In early July, I was aware of Seer but not of Wil.
I attended my first MozCon in 2020 and Wil was one of the speakers. Truth be told, I almost skipped his presentation because the title of it didn't sound very interesting but I did pay for it so I showed up.
Over the next hour I was completely blown away. What I really like about Wil is that he is a no BS kind of guy. He's here to help you but he doesn't sugarcoat anything.
After seeing his Moz presentation, I went to YouTube and found some older videos which provided a bonanza of great insights and actions.
When I was at Intel we used to talk about being a generation ahead of the competition. I think it's highly likely that Wil Reynolds and his team at Seer Interactive are a generation ahead of all of us.
Why do I think this? I can see what they are doing in relation to everybody else. While most people share a little and then sell a program to you to learn the rest, Wil and Seer share everything. For free.
If you want to learn how to use big data to do SEO and PPC better, this is a no brainer. Follow Wil. Follow Seer Interactive. They will happily give you information to stop waste and improve the bottom line.
Thank you to all six of you for sharing your knowledge and insights.
I'll be back in two weeks with a new post.
Have a happy and safe Thanksgiving.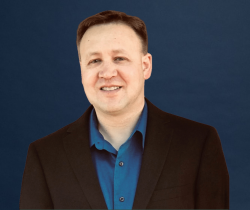 Latest posts by Shane Carpenter
(see all)